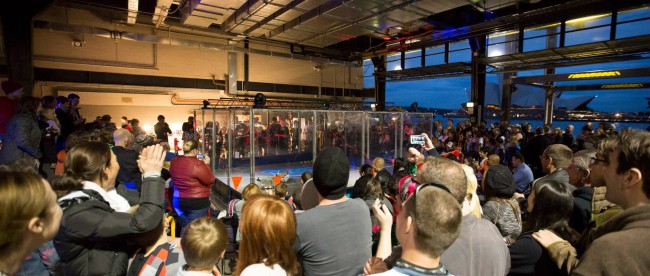 Tickets for our 2017 Robowars at Vivid Ideas are NOW ON SALE! Australia's top RC combat robots will battle it out across four sessions. Book now to secure yourself a spot close to the action!
This year we're taking things up a notch, more robots, more battles, more carnage. We'll be bringing in a brand new robot arena with a PIT HAZARD! Only the most elite robots will survive.
Session 1: 2:00pm – 3:30pm
Session 2: 4:00pm – 5:30pm
Session 3: 6:30pm – 8:00pm
Session 4: 8:30pm – 10:00pm
Limited seating available so book your session quickly! Book an earlier session to see the robot's debut their shiny armour or book a later session to catch the robots amongst the lights!
Want to get closer to the action? Grab a VIP ticket for ringside seating and exclusive back stage access to the builders. Limited numbers available.
Looking to build a robot – get in touch – more details here